What is Plantar Fasciitis?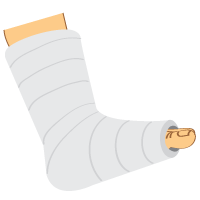 Plantar fasciitis is the most common cause of heel pain, and is commonly found in runners and people who wear improper footwear. The weight balance on the foot is 50% on the heel and 50% at the base of your toes. Having support and cushioning at those points is very important. The arch of your foot isn't designed to take any impact-so having shoes that put pressure on your plantar fascia with every step will create more inflammation in the foot, not heal it.
The medical field is talking about renaming cases of plantar fasciitis without inflammation plantar fasciosis. Diseases involving inflammation end with "itis", and without "osis". Chronic cases of plantar fasciitis have the material breakdown of the plantar fascia, but the inflammation is less prominent – as the body is no longer able to continue healing the damaged tissue. Don't let your simple case of plantar fasciitis that can be healed in a couple of weeks with the proper care, turn into a chronic disease where healing is no longer possible.
When bones are broken, a cast is applied to steady the area, crutches are bought and are you're instructed to stay off your feet. When a ligament is broken (torn) why would crutches not be a good idea? Reduce movement to the inflamed area for a couple of weeks – and the pain is gone. There is no need for plantar fasciitis to become a part of your life.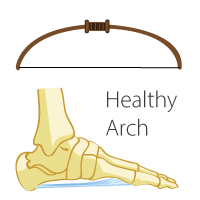 Imagine the plantar fascia as a bow and arrow. The arch of your foot is the arc of the bow, and the plantar fascia ligament is the string creating the arc. The purpose of the fascia ligament is to create the arch of the foot by holding the metatarsal bones at one end and the heel bone at the other end. Any pressure directly on the fascia itself risks tearing of the tendon. Repeated stress or sudden shock to the ligament causes inflammation and irritation.
Most intense pain is felt first thing in the morning. This pain is re–injury. Your plantar fascia will shorten and heal back to its proper length at night and if the surrounding muscles aren't warmed up before the first couple steps are taken–the pain is the healing from the night before going out the window. Advanced cases of plantar fascia injury and overstretching will result in flat feet–as the tendon is no longer the right length to do its job–creating the arch in the foot.